By using this website, you consent to our use of cookies. For more information on cookies see our privacy policy page.


The Fishingnet Portal is a cross-agency project aimed at bringing together all links to relevant information useful to people involved in the Fishing Industry.
Sales Notes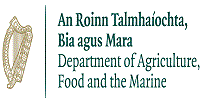 Click the Login button below and you will be prompted for your username and password to log into the FishingNET system. If you are a fish buyer with a query on Sales Notes OR you are a vessel owner with a query on registration or licensing OR you encounter any technical issues, please contact the relevant business area.
You can also complete a Sea Fisheries Licence Application form or Register for Sales Notes .